Email
Phone
(507) 280-7584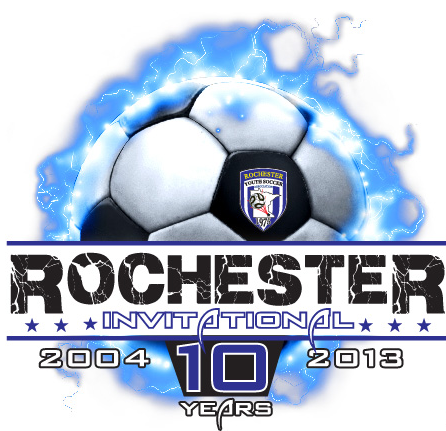 Updated June 27, 2013:
We have just uploaded some photos taken at the weekend tournament to the website for your viewing. Please select the 'Photos' tab to access them. Hope everybody enjoys them as much as we do.

Updated June
27, 2013:


Congratulations to everyone involved with last weekend's soccer tournament. We honestly feel that eve
rybody's contribution from the organizers, sponsors, referees, medical staff, field marshals, score keepers, managers and of course the players have helped make the 10th Annual RYSA Tournament an overwhelming success. Thank you so much.

Updated June 21, 2013:
The 2013 Rochester
Invitational Tournament is proudly sponsored by: The Soccer Advantage, Dick'
s Sporting Goods, Skillzys and a host of local restaurants and businesses here in Rochester. Thank you for providing the prizes and MVP awards for this year's tournament.
Player Prize Ra
ffle: Teams will be presented with tickets for their players during
check-in. Winning numbers will be posted at The Soccer Advantage or at the equipment sheds at soccer com
plexes on Saturday afternoon
. Claim your prize at The So
ccer Advantage store throughout the tournament. Some of the prizes include $5-50 gift certificates, player bags, soccer balls, T-Shirts, jerseys and restaurant gift cards!
Note: All prizes must be redeemed by the end of the tournament.
MVP Awards: Teams will be presented with a total of 3 Skillzys MVP awards. After the game please award this to a player on your team that you would
designate as the "
MVP of the Game". This may not necessarily be the player that scored the most goals but possibly the player that demonstrated the best sportsmanship. It is our hope that you will choose a different player e
very game as we all know our teams have many valuable players.
Thank you again for participating in the Rochester Invitational. Have a wonderful tournament and enjoy the best sport on the globe!
Joe Doppler
2013 Rochester Invitational Tournament Director
2013 Results
:
Past Results
:
If you have any questions please feel free to contact Joe Doppler. (507-280-7584, rysatourney@gmail.com)